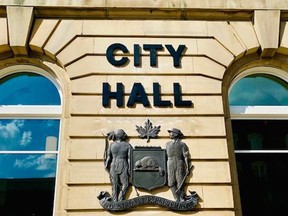 Content of the article
Mayor Kevin Davis said he was unable to initiate a possible recount of the municipal election votes at the request of his closest challenger.
Content of the article
Dave Wrobel, who lost the race for mayor of Brantford in the October 24 municipal election by 208 votes, asked Davis earlier this week to request a recount.
Davis said in an interview Thursday that he had received legal advice that doing so would put him in breach of municipal conflict of interest law, which "could result in dismissal from public office."
A conflict of interest occurs when a person in public life finds himself in a position where a personal interest may, or may appear to, conflict with his role as city ​​councilor.
The final count of the election gave Davis 9,220 votes (45.95%) and Wrobel, 9,012 (44.91%).
Challengers Ryan Smith, a first-time candidate, received 1,491 votes (7.4%) and permanent candidate John Turmel finished with 343 votes (1.7%).
Content of the article
On Oct. 30, Wrobel posted an open letter on Facebook to Davis, who is entering his second term as mayor, urging him to introduce a resolution at a special council meeting that would ask the city clerk to conduct a recount "at hand" of the election results.
Wrobel called it "an offering of collaboration, unity and leadership".
"Two hundred and eight votes, about one percent: that's all that separates outgoing Brantford mayor Kevin Davis and myself," Wrobel said in his letter. "A narrow margin of apparent victory, and so narrow that it is well within a margin of error. Most reasonable people would assume that a recount would be done to validate such a close fight. »
Under the Municipal Elections Act, a recount can be requested by the City Clerk if the candidates get the same number of votes.
Content of the article
The only other ways to order the clerk to recount are:
• By a resolution of the municipal council, which must be adopted within 30 days of the certification of the results by the clerk, which was done on October 25th. A recount must take place within 15 days of the adoption of a resolution;
• An order from the Minister of Municipal Affairs;
• Or through an application to the Superior Court of Justice if "a person entitled to vote at an election has reasonable grounds to believe that the results of the election may be in doubt". The request must be submitted within 30 days following the proclamation by the clerk of the results of the election.
Wrobel said that "before either candidate can legitimately rule the city, it must be clear to the community who is the winner, regardless of victory or defeat."
Content of the article
"It's simply the right thing to do in the interests of a united and trusting community," Wrobel said in his letter to Davis.
"With respect and integrity, I am prepared to accept the result of a manual recount and hope there is no reason for you not to accept the same."
Wrobel said he copied the letter to Davis and all city council members.
A councilor can also bring a motion to request a recount of the votes within 30 days of the Clerk's declaration of the results, which in this case would be before November 24.
"I believe in being open and candid in my approach in asking all board members to show leadership and honor an open and public request for a recount."
In the meantime, Wrobel said he will continue to prepare for other options, including filing the necessary paperwork to seek a recount in court.
He did not answer the question of whether he specifically wanted a manual recount or whether he would agree to a recount by running the ballots through a tabulating machine.
He also did not respond when asked if he thought he had "reasonable grounds" to believe the election results were questionable, other than the fact that the vote was close.
Davis said this is not the first time there has been a close election for mayor of Brantford.
In 2003, Mike Hancock defeated Chris Friel by 15 votes. In 2006, Hancock defeated Friel by 165 votes.