The large-scale sell-off continued for a second session as investors feared a rise for longer inflation and a slowing global economy. Shares of resource companies sold off on poor export data from China, which saw growth at its lowest level in 2 years due to shutdowns in a number of cities. Energy was one of the few exceptions, with new sanctions on Russian exports tightening the market. The traditional low-growth consumer staples and healthcare sectors also managed to end higher on a soft day, while real estate stocks took the most heat as bond yields continued to rise. 'increase.
The ASX 200 finished +20pts/ +0.28% at 7116
The energy sector was the best in the field (+0.53%) while commodities (+0.20%) and healthcare (+0.12%) both managed gains.
Real estate (-4.13%) and Tech (-3.21%) are the weakest links.
China saw export growth slow to 3.9% year-on-year, largely due to sweeping lockdowns that swept through the main port city of Shanghai. The data put pressure on lithium and iron ore stocks in particular.
Westpac (WBC) +3.23%, rounded the 1H reporting period for banks today. It was probably the pick of the four thanks to cost control. More on that below
Suncorp (SUN) -0.27%, managed to grow their lending volumes at above-market rates and expect writedowns to remain near record lows. Volume growth was seen across all segments except personal and SME loans as the riskiest parts of the portfolio opted to deleverage.
TPG Telecom (TPG) +2.33%, followed Telstra in the sale of its tower assets. It will free up nearly $900 million in capital which they will use to pay down debt.
Magellan (MFG) -8.41%, sold their 11.6% stake in Mexican food chain GYG as they seek to bolster their assets.
Iron ore futures were hit around 5% today, sending iron ore stocks lower.
Gold was down on the strength of the US dollar, trading at US$1,871 per ounce at the close.
Asian markets were weaker, the Nikkei in Japan -2.84%, Hong Kong stocks -0.91% while China was down -1.4%.
US futures are all down, down about 0.9%. There was earlier and increased since 11:30 our hour.
ASX 200 card
Magellan Financial Group (MFG) $15.80
MFG -8.41%: the fund manager continues to refocus on its activity by announcing today the sale of its 11.6% stake in the Mexican fast food chain Guzman Y Gomez. They would post a 36% profit in just under 18 months, selling the stake to Magellan-backed Barrenjoey for $140 million, with another $6 million tied to business performance. Proceeds will go to continued capital management with Magellan shares currently 70% below their 12-month high. This decision is positive in our opinion, a capital increase without dilution of the new shares and offers greater flexibility for Magellan's core business.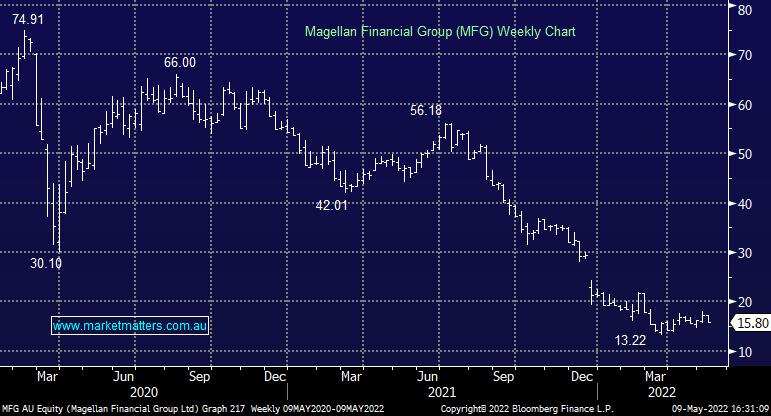 TPG Telecom (TPG) $5.70
GPT +2.33%: Today announces the sale of its entire mobile tower and rooftop infrastructure network for approximately $950 million to a Canadian pension fund, using the proceeds to repay approximately 20% of its current debt. Telstra and Singtel have taken similar steps of late taking advantage of the current appetite for infrastructure assets. Reducing the overall amount of debt that TPG carries will reduce the cost of that debt and provide them with greater flexibility in the future. We recently added TPG to our growth portfolio as a more defensive position and view today's announcement as positive.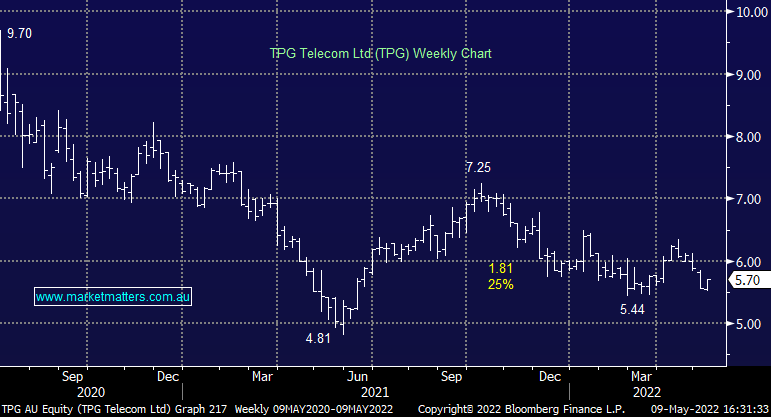 Westpac (WBC) $24.60
WBC +3.23%: Strong 1H22 result this morning from Westpac beating consensus expectations by around 6%. Cost management was a key driver and they did a good job here reducing underlying costs by 10% and they also guided 2H22 costs to be 0-2% lower than 1H, it's ie fixed or declining costs, which goes against what we have seen from other banks stepping back from their cost guidance. It seems a bit odd that WBC can offer further cuts while other banks (and mkt more generally) are under cost pressure, time will tell. Share price performance tells you the story today and we wouldn't be surprised to see some performances catch up to others after an extended period of underperformance.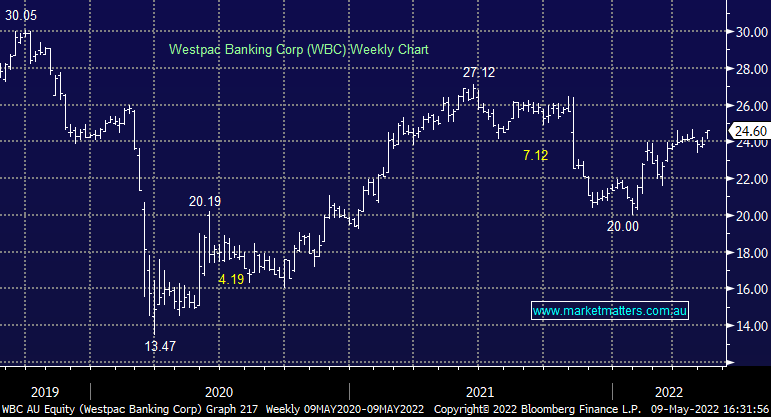 Broker movements
REA group reduced to equal weight at Morgan Stanley; PT AU$130
Centuria Office REIT reduced to equal weight at Morgan Stanley
NAB cut to neutral at UBS; PT AU$35
Macquarie Group reduced to neutral at Citi; PT$187
Charter Hall Long WALE Passed to neutral at JPMorgan; PT$5.20
GPT group reduced to underweight at JPMorgan; PT$5.20
Hotel ownership cut to neutral at JPMorgan; PT$3.90
Macquarie Group lifted to add to Morgans Financial Limited
REA Group raised to add to Morgans Financial Limited
Macquarie Group cut to underperform at Credit Suisse; PT AU$150
REA Group raised to outperform at Credit Suisse; PT$142.80
The main movers today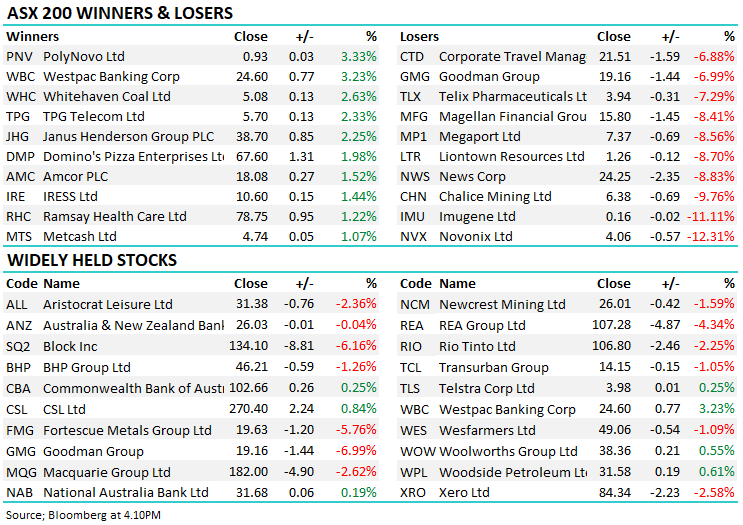 Have a good night
The Market Matters team
Make informed investment decisions
At Market Matters, we write a direct and concise note twice a day about our experiences, stocks we like, stocks we don't like, topics you should discuss and risks as we see them. Click here for your free trial.
Match Out will be available every day after market close. To follow my profile to be notified when the latest report is online.